Cadence in Henderson, NV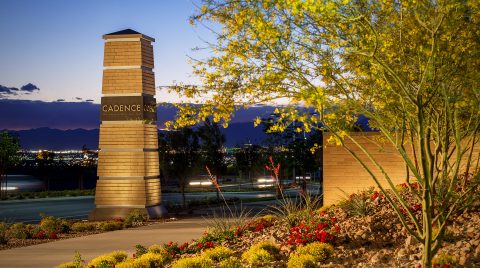 Cadence is a master planned community with over two thousand acres and fantastic amenities. It is located at the heart of Henderson, Nevada. Cadence is the perfect destination for any family looking for a welcoming environment. Built by multiple builders, this community gives homebuyers a variety of options to choose from. While Henderson is a beautiful city near the Las Vegas strip, it is located in the heart of Clark County Nevada. Henderson is the second largest city in the state, making it large enough for an active community, yet quiet enough for peaceful suburban living. On this page you will find all homes available in this Master Planned community. Cadence will have over thirteen thousand single-family homes, ranging from one thousand four hundred to three thousand five hundred square feet. Cadence is also served by wonderful nearby private and public schools, including Lake Mead Christian Academy, Pinecrest Academy, and Legacy Traditional Schools.

The community offers many amenities on-site while being conveniently located in Henderson, making it just minutes away from shopping at the Galleria Mall and The District at Green Valley Ranch. Cadence is filled with top-notch amenities that promote an active lifestyle as well. The communities recreation area includes a five-acre adventure playground for kids as well as pickleball courts. Its residences also have access to a six-lane lap pool or play in the two thousand square-foot splash pad. There are also many bike paths and walking trails for you to take advantage of, making it easy for its homeowners to stay active indoors and outdoors.

There are many recreational and sport amenities located at the communities park, Central Park offers 50 acres of outdoor fun and of course is perfect for walking, biking, or playing with your dog at the dog park. As most people are now working remotely, you can access free Wi-Fi and find a place to conveniently recharge your devices and make this amazing park their daily office. It is the only community in Henderson with free residential bike share program. It is a program that allows residents to use bikes for free. With more than four hundred acres of open space, Cadence residents are sure to find a place to socialize with their neighbors and relax with their families and friends. If you are wanting an adventure, you will find access to the River Mountains Loop Trail, the Las Vegas Wash Trail, and the Lake Mead Trail. All of these trails offer miles of hiking, biking, and horseback riding.

Search for all available homes in Cadence Henderson NV here

Cadence is a master planned community that offers brand new homes with modern and unique designs that meet the needs of today's homebuyers. There are a variety of home designs that meet every taste mainly from four major home builders. There are many homes suitable for both single and large family leaving. For example, there are single person homes, town homes, condominiums and huge luxurious homes a variety of floor plans and architecture styles to choose from. Therefore, people looking to purchase a home at this area, have a variety of options available to choose the most suitable home design, that meets their lifestyle needs and budget. Search for all available homes in Cadence master planned community here