According to the Greater Las Vegas Association of Realtors, Las Vegas area median home price is up 8.1% reaching $238,000 in some areas. It still remains well below the peak of $315,000 in mid-2006, during the housing bubble.
The biggest jumps in median resale prices last year tended to be in older, more centrally located areas of the valley. West of downtown around Washington Avenue and Martin Luther King Boulevard, the 89106 ZIP code posted the fastest price growth, climbing 22.8 percent from 2015. That was followed by ZIP code 89146, around Sahara Avenue and Jones Boulevard, at 17.5 percent, and 89030, around Cheyenne Avenue and Interstate 15, at 16.3 percent. All but three ZIP codes posted increases. The highest median sales price last year, $365,000, was in the 89138 ZIP code, west of the 215 Beltway around Alta Drive in Summerlin.
Las Vegas Home Price Appreciation Map by Zip Codes | 2016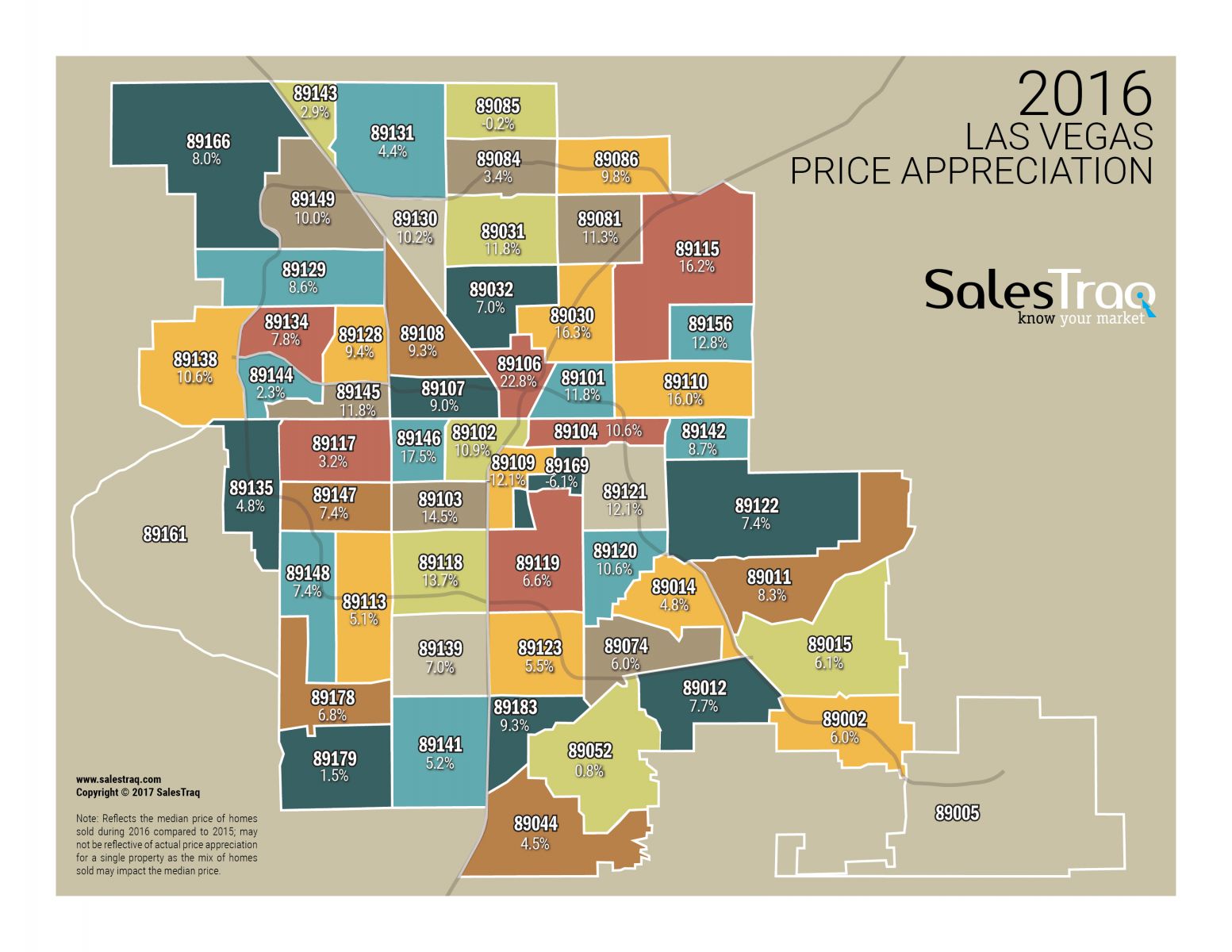 If you are thinking of selling in 2017, now may be the time. Demand for your home is very strong right now while your competition (other homes for sale) is at a historically low level. The recent jump in mortgage rates has forced buyers off the fence and into the market, resulting in incredibly strong demand RIGHT NOW!! At the same time, inventory levels of homes for sale have dropped dramatically as compared to this time last year. We are selling homes within single days, some with multiple bids and above appraised value.
Whether your considering selling your home or your ready to buy in 2017, we can help you achieve YOUR goals! Feel free to give us a call or drop us an email, we are always ready when you are! The greatest compliment we receive from our clients is they recommend us to their family and friends!
Call/text: 702-832-0229 or email